Las bandas más importantes del mundo llegan a la Argentina para dejarlo todo.
El festival se llevará acabo los días 16, 17 y 18 de marzo en el Hipódromo de San Isidro.  A menos de 20 días del festival, quedan unas pocas entradas y ya se saben los horarios de lo recitales que serán parte de la quinta edición.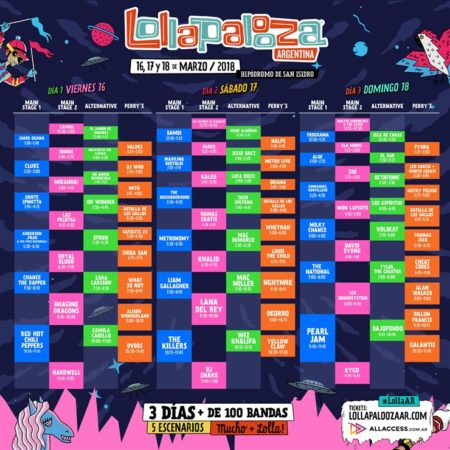 Más de 100 bandas y artistas tocarán en los 5 escenarios de Lollapalooza durante 3 días con lo mejor de la música de la mano de artistas consagrados y emergentes de rock, pop, hip hop, electrónica y mucho más.
La primera jornada, el 16, comieza con Jakob Otawa en el Main Stage 1 a las 13, seguido de Dante Spinetta a las 15:45. A las 22 horas toman lugar los Red Hot Chili Peppers, escenario ocupado previamente por Chance The Rapper a las 19:30 y por Anderson. Paak &The Free Nationals a las 17:30. Las estrellas del main stage 2 serán Imagine Dragons, que comienzan a las 20:30, y Hardwell, que toma el escenario a las 23:45. Artistas locales como Miranda, Indios y Las Pelotas actuarán a lo largo de la tarde. Además, en el Alternativo se destacan Camila Cabello a las 22:00 y Zara Larsson a as 19:30. El Perry's stage, encargado de la electrónica, comenzará una maratón de DJ's a las 13:25. También, el rap debuta en el festival con La Batalla de los Gallos.
El segundo día, el Main Stage es abierto por el ex Tan Biónica, Bambi, seguido por Marilina Bertoldi, y por el ex Oasis Liam Gallagher. The Killers abrirán a las 22:15. En el Main Stage 2 estará Damas Gratis a las 16:30, Lana del Rey a las 20:45 y DJ Snake a las 23:45. En el Alternative se presenta Luca Bocci a las 14:40, Mac Miller a las 19:30 y cerrará Wiz Khalifa a las 22:15.
La tercera y ultima jornada de la quinta edición sera inaugurada por Programa en el Main Stage 1 y Walter Dominguez & The Catbu en el Main Stage 2. En el Main Stream 1 se destacan Aloe, el local Emmanuel Horvilleur, Milly Chace, The National y Pearl Jam. El Main Stage 2 se copa con David Byrne y LCD Soundsystem, y es cerrado por Kygo a las 23.45.
Actualmente quedan entradas para el precio final del día 2 y el tres, ambos a $1990. Además se pueden adquirir pases VIP para esos mismos días a $4500 por día (siempre más cargo por servicio). Los tickets se pueden adquirir en AllAccess y en lollapaloozaar.com. En ambos sitios también están a la venta los estacionamientos, a un precio único de 800 pesos.